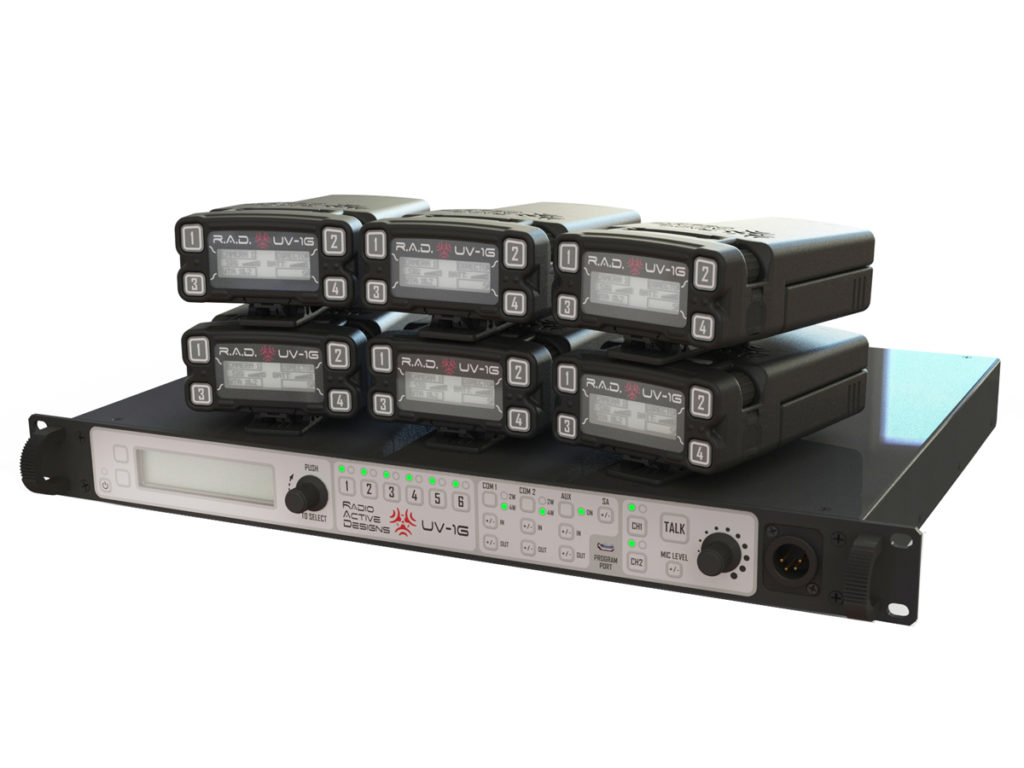 East Rutherford, New Jersey (November 2017) –  Radio Active Designs (RAD) has announced the availability of new firmware that provides unprecedented audio routing capability to UV-1G wireless intercom users. The announcement was made by James Stoffo, CTO for RAD. The firmware is available for download on the company website, and is free of charge.
"The new firmware includes a preset, or Scene Change function, that delivers audio routing options that exceed those of digital wireless intercom systems on the market," explains Stoffo. "Now in addition to the analog reliability and frequency coordination abilities, we also provide Scene Change. Every belt pack can communicate with 20 channels of intercom along with the capability to preset up to 40 talk paths."Scene Change enables every belt pack to communicate with multiple departments during an event or may be used to create a mix of communications channels specific to the user's needs. Stoffo adds, "The introduction of digital wireless intercoms has changed the expectation of the comm belt pack user. Fortunately, the UV-1G is a software defined radio which means we are able to evolve with the changing needs of the industry."The addition of
Scene Change allows belt packs to seamlessly roam between studios, theaters and even buildings using multiple antenna zones to communicate with multiple base stations in multiple areas. All belt packs may switch to preset parameters based upon communication requirements with the push of a button. The specific parameters are numerous including transmitter and receiver frequencies, button audio routing assignments and wired communication channels.
The firmware update is compatible with all Windows, Apple and Linux-based Operating Systems, making system upgrades easier than ever. In addition, the software adds a side tone on all four channels, providing end users with unmatched flexibility in the industry.
"We believe that the Scene Change function makes the RAD system the most versatile and reliable wireless intercom system available on the market today," Stoffo concludes. "Existing users can download the scene change firmware update and take advantage of the tremendous audio routing abilities now available in every single UV-1G belt pack. If you are not a user, this is another reason to give this wireless intercom system serious consideration. Trust me, this is not your father's analog intercom."
###
Photo Cutline: Radio Active Design's new firmware update offers a "Scene Change" preset function that adds tremendous flexibility to the analog wireless intercom system.
Photo download: http://bit.ly/1vlLmPy