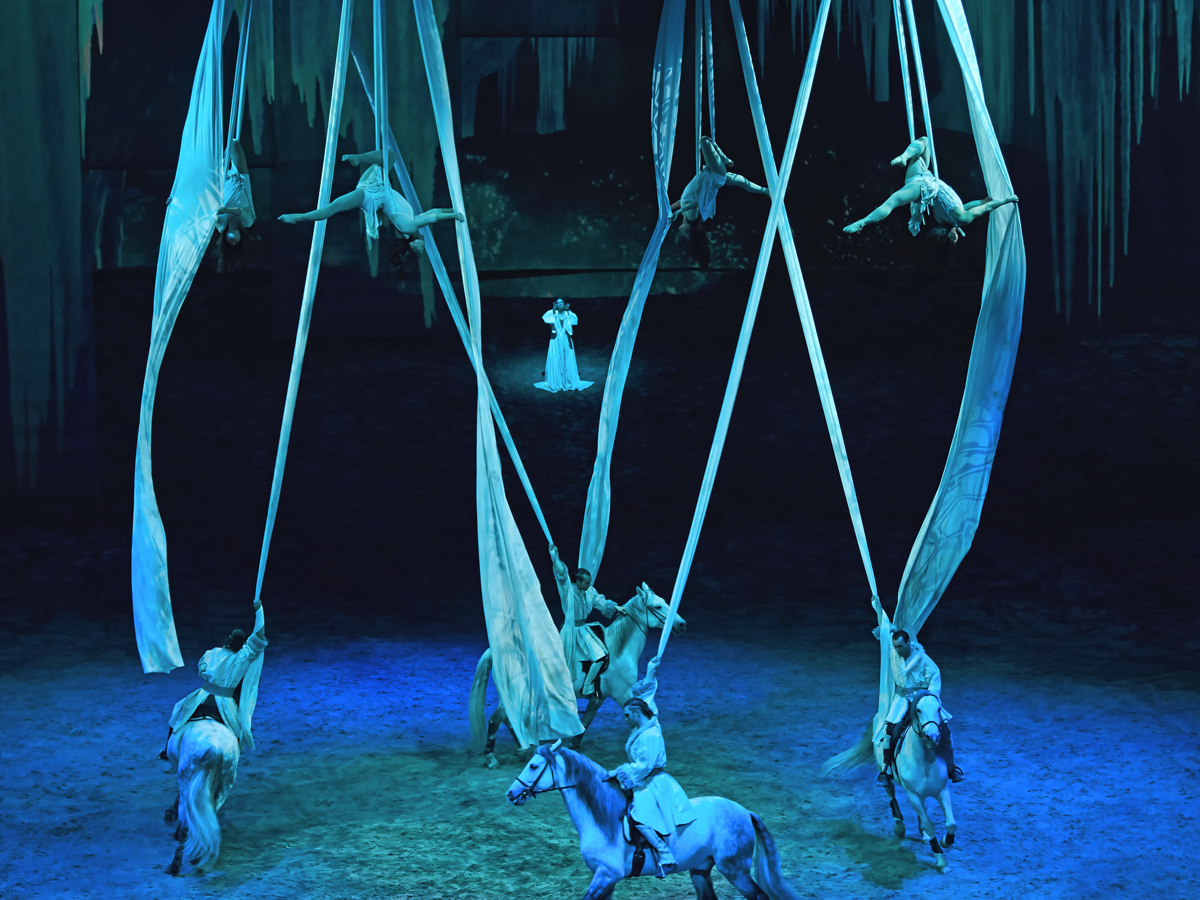 Montreal-based Cavalia's production Odysseo combines equestrian arts, stage arts, and high-tech theatrical effects with 65 horses interacting with a cast of 48. The traveling production, which is produced in a 125-foot tall White Big Top Tent, is currently touring the United States with communications aided by a Radio Active Designs UV-1G wireless intercom systems.
"When we first came to the States we used a rented intercom system that proved to be unreliable – we had a lot of frequency issues," explains Nicolas Michel, head of sound/FOH engineer for Odysseo. "With a show this size – with as many moving parts as it has – rock-solid communications is extremely important for the production, as well as for life safety. We needed a solution that we could rely on anywhere."
The show sets up the Big Top in each city with performances for six weeks before moving on to the next location. The tent spans more than 84,000 square feet and has a seating capacity of 2,000. The stage, which at times is host to 65 horses and their handlers, covers 17,500 square feet. This is not a small production.
With shows scheduled for San Jose, Orange County, Vancouver and Chicago, Michel conferred with Montreal-based Solotech to find a reliable wireless intercom solution. When Solotech recommended the UV-1G system, which operates primarily in the VHF band, he immediately purchased two base stations and 16 RAD packs.
"There are 14 people backstage running the show along with three riggers, two carpenters, one stable manager and one backstage manager," he adds. "Normally each base station handles six body packs. In our case, we use 16 bodypacks. Six of the packs are used primarily by people that need to hear instruction, and not necessarily communicate, so they share frequencies. It works extremely well for us."
Philippe Palanque, monitor engineer for Odysseo, manages both base stations and body packs, ensuring they are working and that the crew has what they need. Because the body packs operate in the VHF range, there is plenty of available spectrum for use, no matter where the show takes place. The base station utilizes proprietary Enhanced Narrow Band technology which allows the 6-channel unit to occupy a mere 25 kHz of bandwidth while maintaining the audio characteristics one would expect from a traditional FM system.
"It's an easy to use system that is a good compromise between analog and digital," concludes Michel. "I feel confident that we can perform anywhere with it – it was a terrific investment."
####
Photo Cutline: Radio Active Designs UV-1G wireless intercom systems play an integral role in coordinating the production of Odysseo
Photo Download: http://bit.ly/2dkqXti
Media Contact
Julie McLean Clark
JMC Communications
O: 269 262 4842
M: 269 240 3175
juliemcleanclark@gmail.com