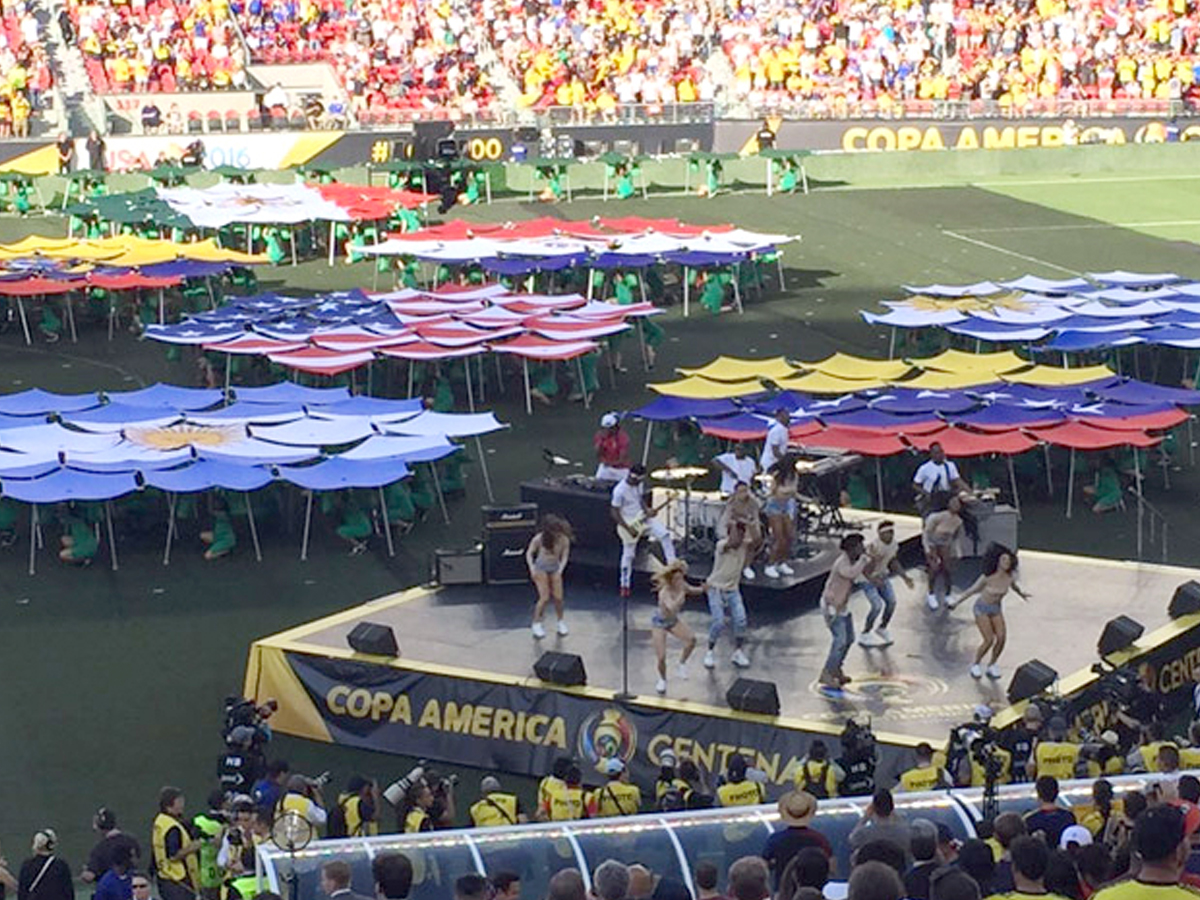 This year's COPA America Centenario soccer tournament, held in North America for the very first time, featured unforgettable opening and closing ceremonies held at Levi Stadium, Santa Clara, CA, and MetLife Stadium, East Rutherford, NJ respectively. Ceremony show producers FiveCurrents (5C) relied upon Radio Active Designs UV-1G wireless intercom systems to provide the production crew with flawless communication during both ceremonies.
As with many large sporting events, it took more than one team to pull off a seamless event. While Five Currents produced the opening and closing ceremonies, the broadcast was covered by Broadcast Services Group (BSG), a full service production company that specializes in packaging live sports events. BSG in turn hired Professional Wireless Services (PWS) to provide frequency coordination services for the 34-game tournament.
Ike Zimbel, RF coordinator for PWS, suggested utilizing the UV-1G wireless intercoms to free up UHF bandwidth for the wireless microphones and IEM systems each ceremony required. ATK Versacom provided the gear for the opening ceremonies while Firehouse Productions stepped in for the closing ceremonies.
Both events started out with a fair amount of offsite coordination prior to the day of the show. Zimbel used IAS and then sent the results to the equipment supplier's crew to pre-program the gear. "We not only had to plan for all of the RF – wireless microphones, IEM and intercoms for the ceremonies, game and press conferences – but each of the stadiums had their own intercoms and other "game day" RF systems that had to be worked around as well," Zimbel explains. "Working with the RAD systems that operate primarily in VHF provided a ton of flexibility."
Ultimately Zimbel utilized three UV-1G base stations with 18 RAD belt packs at Levi Stadium and four UV-1G base stations with 24 RAD packs at MetLife Stadium.
"There were a lot of moving parts for both events," says Zimbel. "At one point the opening ceremony had over 100 kids on the field forming the flags of each participating country. They all had to be wrangled into place by 5C production staff with split second timing, all this while there were more than 20 mics and IEM's dedicated for the artists that performed and a total of 160 frequencies in the coordination. From the get go I said 'we need to keep as much UHF available as possible' – which is exactly what the RAD gear does. We had the UFH bandwidth we needed and the UV-1G systems provided flawless communications for both events."
"As a frequency coordinator there is nothing better than to go into a situation where you are looking for frequencies for intercom and you get 60 candidates – VHF is like a return to the good old days," Zimbel concludes.
###
Photo Cutline: Radio Active Designs UV-1G wireless systems assisted with the coordination of the opening (pictured) and closing ceremonies for the COPA America tournament.
Download hi-res: http://bit.ly/2bbbVqO
Media Contact
Julie McLean Clark
JMC Communications
O: 269 262 4842
M: 269 240 3175
juliemcleanclark@gmail.com