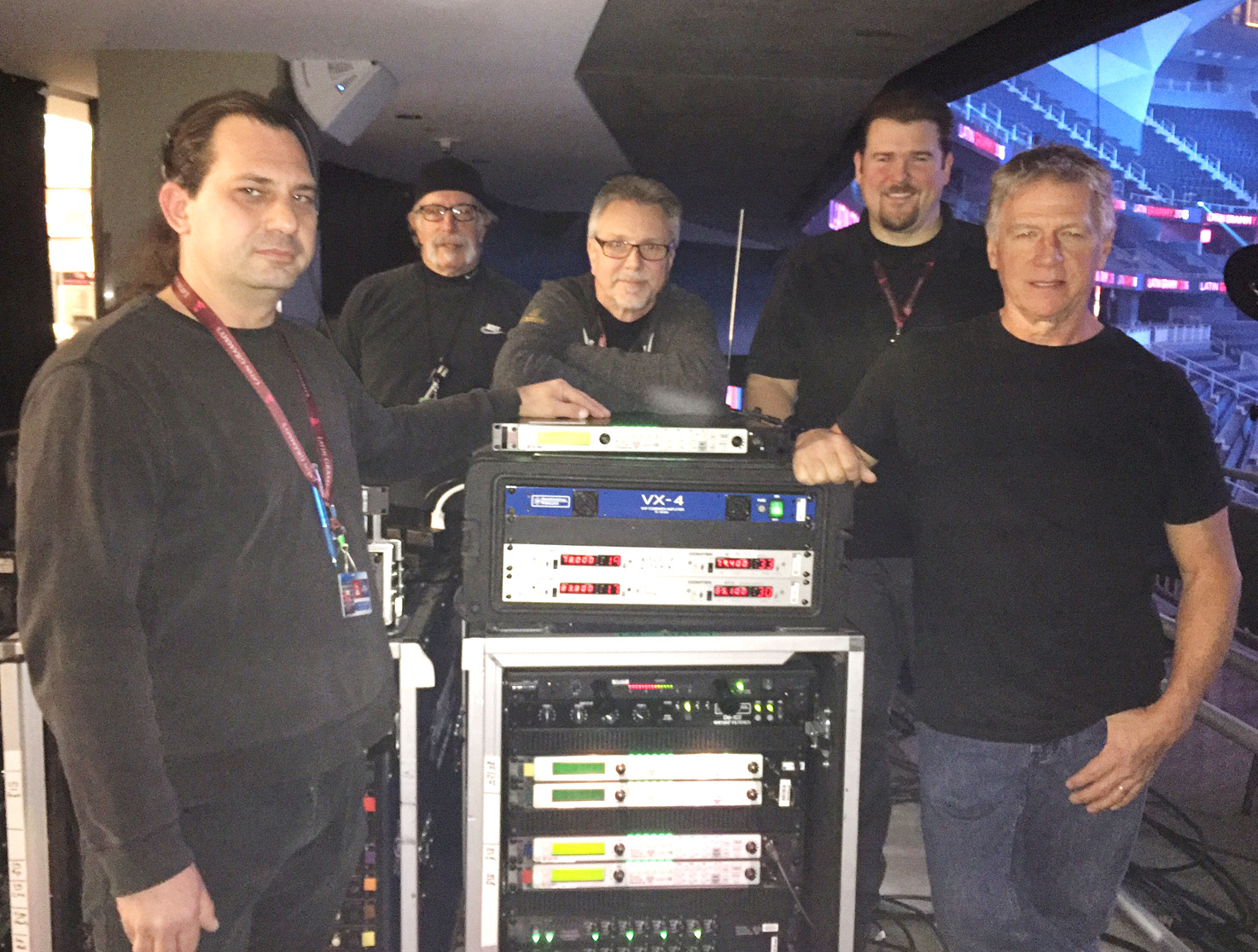 The 17th Annual Latin Grammy Awards, recently held at Las Vegas's T-Mobile Arena, was seen by more than 9.0 million viewers via both the Univision broadcast and those attending the sold-out live event.
Orlando, Florida-based Professional Wireless Systems (PWS) was on site to provide RF coordination for the production. More than 170 RF frequencies were used for wireless microphones, in-ear monitors and intercom systems. To minimize the already crowded RF bandwidth, PWS furnished five Radio Active Designs UV-1G wireless intercom systems to aid communication throughout the performance. The systems were used primarily by the stage managers and the audio department.
"We had 34 RAD packs on five base stations," explains Gary Trenda, RF PL Engineer. "Each base station is equipped with six bodypacks, but we were able to double up on a few of the channels with folks that only needed to use them sporadically."
The UV1-G wireless intercom system is unique because the body packs operate in the VHF range, where there is plenty of available spectrum to use. The base station utilizes proprietary Enhanced Narrow Band technology which allows the 6-channel unit to occupy a mere 25 kHz of RF bandwidth while maintaining the audio characteristics one would expect from a traditional FM system.
The five base stations were rack mounted and located backstage. Two zones – the bowl/main stage and back of house/dressing/green rooms – were covered by separate antenna systems that expanded coverage of the UV1-G systems.
James Stoffo, RF Lead for the Grammys and CTO for Radio Active Designs, concludes, "One of the reasons we developed the UV-1G was to help with the serious congestion in the RF band. This is a perfect example of a situation that needs as much available RF as possible. There were 170 frequencies just on the inside show. The only VHF were RAD belt packs. This made the RF coordination the easiest it has ever been in the last 15 years of doing the Latin Grammys."
---
Photo Cutline: The RF team at the Latin Grammys: Jason Lambert, RF Tech; Dave Nichols, PL Tech; Tim Kepner, PL Engineer; Gary Trenda, RF PL Engineer, and Jim Van Winkle, PWS General Manager
Photo Download: http://bit.ly/2h1gUwi