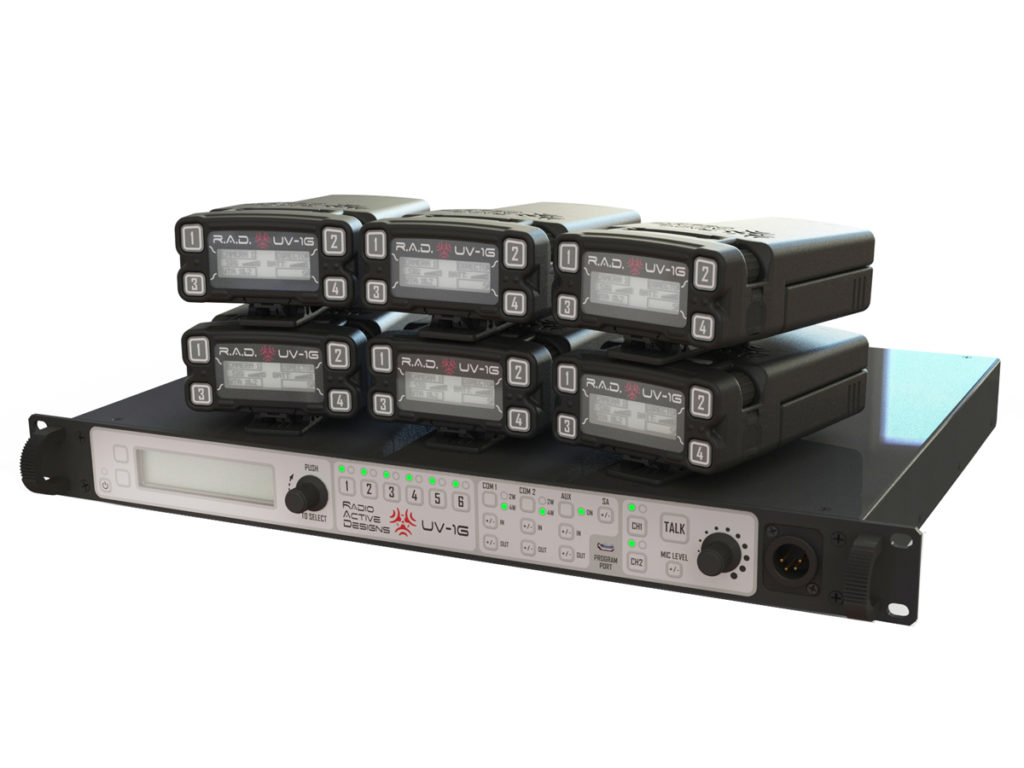 East Rutherford, NJ (May 2017) – James Stoffo, CTO of Radio Active Designs, has announced the availability of a firmware update for the UV-1G base station and the RAD body packs. The firmware updates, which are available on Radio Active Designs website, combine to provide users with superior audio quality.
"After the updates are complete, the system has more headroom and offers a level of audio quality not available with any wireless intercom on the market now," explains Stoffo. "The headset output offers greater gain and more dynamic range than before. It is a considerable improvement."
The company has also introduced a Version 2 of the RAD Pack that not only provides greater battery life and a reduction in overall temperature but also offers headset microphone bias voltage to support use of any headset. Stoffo notes, "When we started working on the firmware we decided to incorporate a few extras in the next bodypack version as well. The package is now complete – our customers are very happy."
This announcement comes on the heels of the FCC's rollout of TV Repack channels after the 600 MHz auction. Once implemented, which could be as soon as three months, there will be a severe reduction in the quantity of UHF channels available for wireless.
"We created the UV-1G a few years back when the FCC started talking about the auction," adds Stoffo. "It was clear it would dramatically alter the landscape of RF for wireless – and it has. One of the reasons we decided to design an analog system that operates primarily in the VHF realm was to move out of a crowded spectrum into one with more elbow room to make life easier for RF coordinators everywhere. Reliability is key in communications. Considering the changes that are heading our way, the UV-1G wireless intercom is the most dependable system on the market."
###
Photo Cutline: Radio Active Designs offers firmware updates for the UV-1G wireless intercom system that increase audio quality and headroom.
Radio Active Designs was formed by a group of top wireless audio specialists to design and manufacture spectrally efficient wireless audio products so that all live events, performing arts, and broadcast media may continue to flourish with minimal negative impact from consumer devices.
Media Contact
Julie McLean Clark
JMC Communications
O: 269 262 4842
M: 269 240 3175
juliemcleanclark@gmail.com