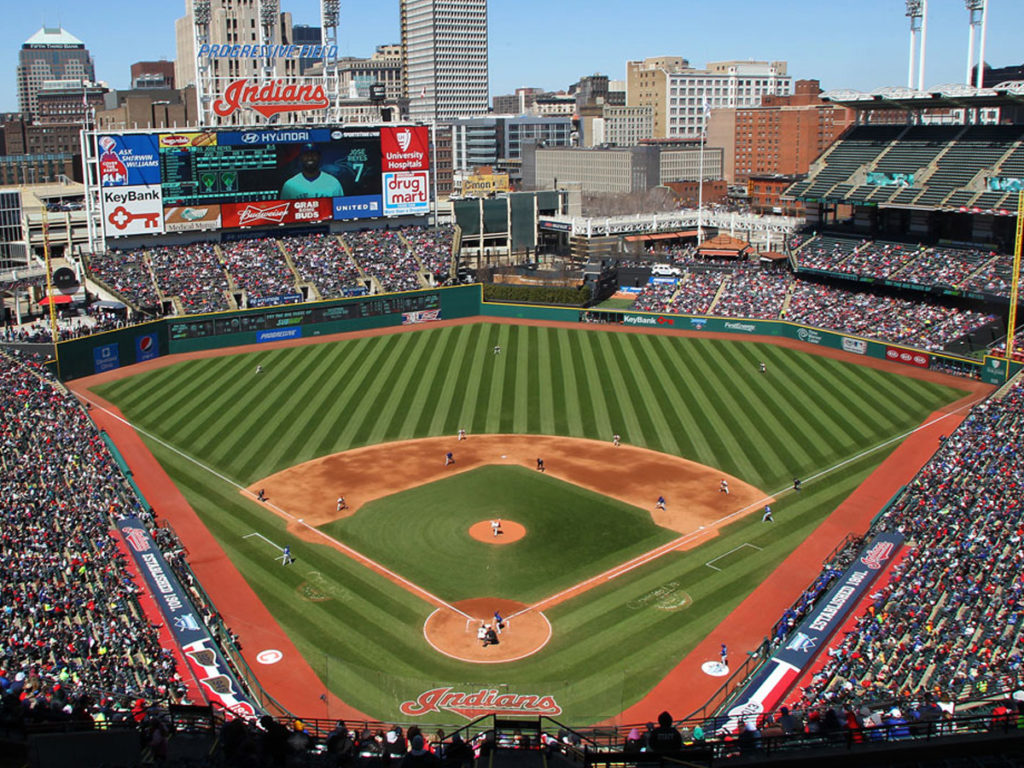 Cleveland, Ohio (June 2017) — Progressive Field, home to Major League Baseball's Cleveland Indians, has recently undergone a system upgrade that includes the installation of two Radio Active Designs UV-1G wireless intercom systems.
Michael Ramirez, the stadium's audio-video engineer, added two UV-1G base stations and 12 RAD packs to improve communications for game day staff – which includes camera operators, advance team coordinators, mascot coordinators, on-field anthem singers, and others involved in game day production.
"We needed a system that didn't operate in 2.4 GHz – which was allocated for stadium Wi-Fi – and that would provide the clarity of an analog signal," explains Ramirez. "Because RAD is analog and operates primarily in the VHF band, it seemed like the obvious choice. After presenting the most consistent results of all the systems tested, it was an easy decision. Knowing frequencies would change in the future and that we were adding Wi-Fi to the building, the UV-1G was our best bet."
The base stations are rack-mounted in the scoreboard rack room located behind home plate, providing exceptional coverage in the stadium bowl. When systems are utilized outside of the park Ramirez deploys an antenna to extend that coverage beyond the dense concrete walls of the stadium.
"It's an older park with lots of cement, so getting any signal outside of the park is impossible," adds Ramirez. "Fortunately, one antenna does the trick, which makes using the systems beyond the stadium walls very convenient."
With UHF at a premium, it was important that the intercom system take up minimal RF bandwidth. As luck would have it, the UV-1G base station requires less than 30 kHz of the UHF band and the RAD packs operate completely in VHF. This made keeping valuable UHF bandwidth open for other wireless devices to operate easier. As an added benefit, since the VHF band is virtually empty, every comm operator has their own channel, eliminating issues that can occur when forced to "double-up", which is necessary with some bandwidth-challenged UHF systems.
With last year being the first season the UV-1G was in use, Ramirez has nothing but good things to say about the system at the start of this year's season. "We have not had any issues, beyond normal wear and tear. The system is solid. The RAD systems work really well and were easy to integrate with systems we already had in place. We have accomplished exactly what we set out to and I'm quite pleased with the end result."###
Photo Cutline: Progressive Field, home to Major League Baseball's Cleveland Indians, relies upon Radio Active Design's UV-1G wireless intercom system forrock solid communications.
Download hi-res photo: http://bit.ly/2slXV6O