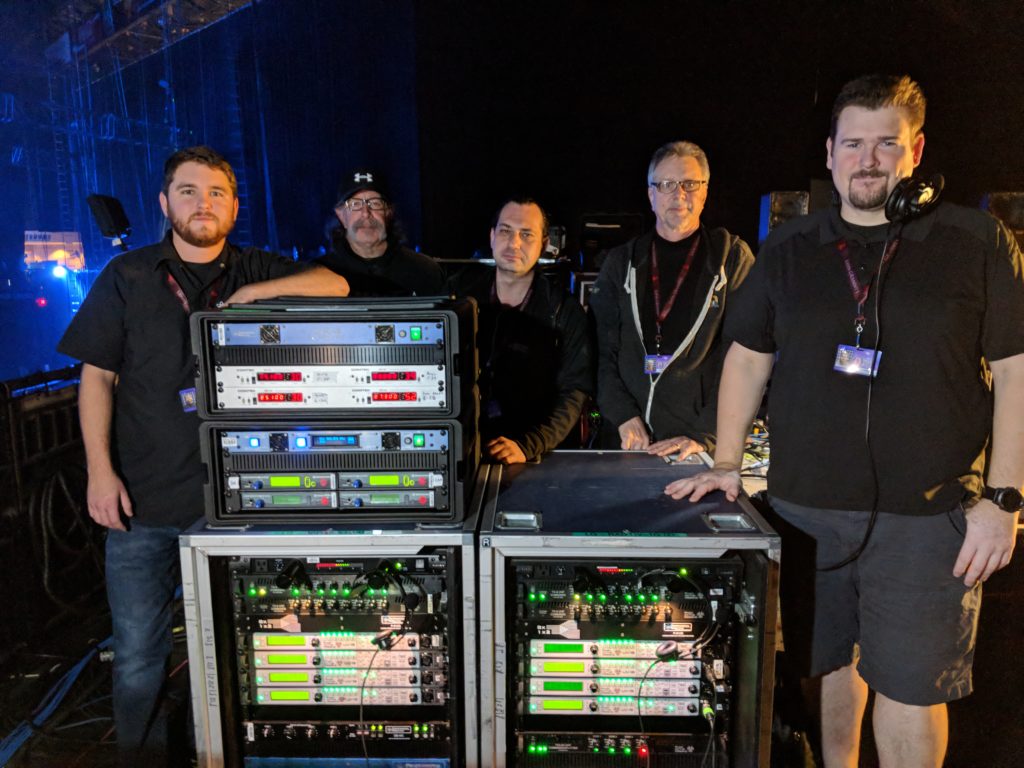 Las Vegas, NV (December 2017) – Latin music superstars Jaime Camil and Roselyn Sanchez recently hosted the 18th Annual Latin Grammy Awards held at the Grand Garden Arena at the MGM Grand Hotel & Casino in Las Vegas. The event, which was broadcast live on the Univision Network, utilized Radio Active Designs (RAD) UV-1G wireless intercoms to facilitate communications.
New Jersey-based Professional Wireless Systems (PWS) provided 50 RAD packs and eight UV-1G Base Stations that were managed by RF Intercom Technician Gary Trenda. RF Technician Jason Lambert was responsible for system integration between both inside and outside of the venue, while Jordan Smith managed distribution of all the wireless intercom and related equipment throughout the event.
"RAD's systems were used across four coverage zones," explains Trenda. "Because the RAD base stations minimize their footprint in the UHF spectrum and the body packs transmit in the VHF range, we used as many of the RADs as we could. It is the most spectrally efficient UHF intercom product and very straightforward to deploy."
The UV-1G wireless intercom system is unique because the body packs operate in the VHF range, where there is plenty of available spectrum to use. The base station utilizes proprietary Enhanced Narrow Band technology which allows the 6-channel unit to occupy a mere 25 kHz of RF bandwidth while maintaining the audio characteristics one would expect from a traditional FM system.
"This years event covered a lot of ground, literally," concludes Trenda. "It was terrific to have a product as reliable and stable as RAD for communications. It made is much simpler to coordinate the rest of the RF for the show."
###
Photo Cutline: The Professional Wireless RF Team For the 18th Latin GRAMMY Awards (left-right): Jordan Smith, Dave Nichols, Jason Lambert, Tim Kepner, Gary Trenda.
Download hi-res: http://bit.ly/2BXL2pd