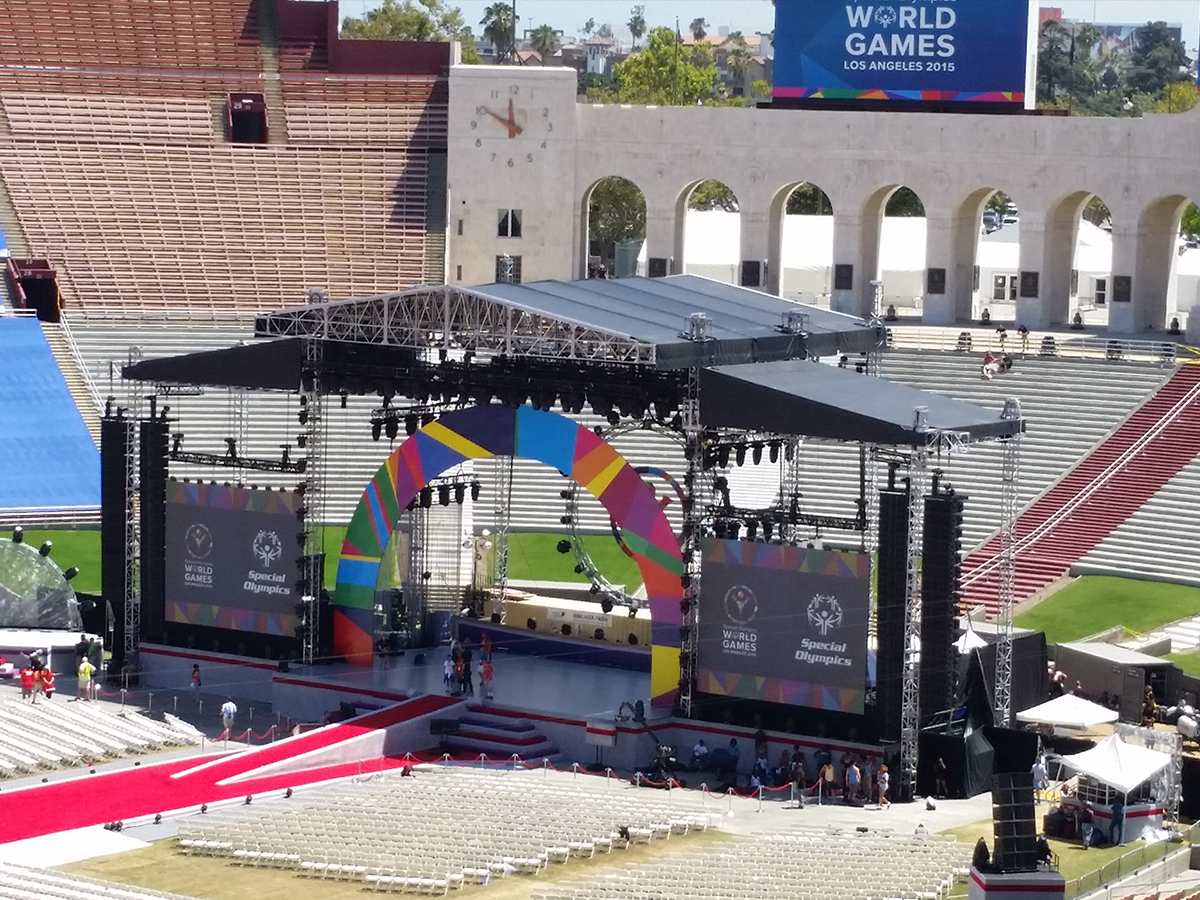 The Special Olympics World Games, recently held at the Los Angeles Coliseum, drew athletes and coaches from 165 countries, along with 30,000 volunteers and 500,000 spectators. Valencia, California-based ATK Versacom, responsible for all onsite communications during the event, provided two Radio Active Designs UV-1G wireless intercoms along with 9 RAD packs to aid communications during the event.
"The UV-1G base stations were invaluable in freeing up the RF spectrum for wireless microphones and in-ear monitor systems," explains Jim Fay, general manager at ATK Versacom. "The Coliseum is a very challenging RF environment with very little spectrum available. Those units were essential in making sure the opening, closing and awards ceremonies went off without a hitch."
With Stevie Wonder, Avril Lavigne and Nicole Scherzinger headlining the opening ceremonies and Carly Ray Jepsen, O.A.R. And Andra Day performing for the closing ceremonies, RF for wireless microphones and in-ear monitoring was in high demand. In addition, ESPN broadcast the opening ceremony live, and they had RF requirements as well.
"The base stations were located in the main communications hub up in the press box," adds Fay. "Members of the lighting and audio departments utilized the RAD belt packs. I was on the stage at the monitor position (stage left) – it's a big venue, communication was key."
Radio Active Designs UV-1G features Enhanced Narrow Band technology which is 10 times more spectrally efficient than current FM technology. As a result, the UV-1G offers RF channels possessing an occupied bandwidth of a mere 25 kHz the audio characteristics one would expect from a traditional FM system. In addition, the system utilizes the relatively unused VHF range for all belt pack portable devices, leaving more room for operation of other wireless devices, such as wireless microphones and in-ear monitors – exactly what was required during the Special Olympics World Games.
"The Special Olympic World Games are a pretty amazing event for so many reasons," Fay concludes. "I'm pleased to say that our end was pretty darn flawless, thanks in part to the Radio Active Design intercoms."
###
Photo Cutline: ATK Versacom provided flawless communications during the Special Olympic World Games held at the Los Angeles Coliseum.
Photo Download: http://bit.ly/1MLiFbA
Media Contact
Julie McLean Clark
JMC Communications
O: 269 262 4842
M: 269 240 3175
juliemcleanclark@gmail.com