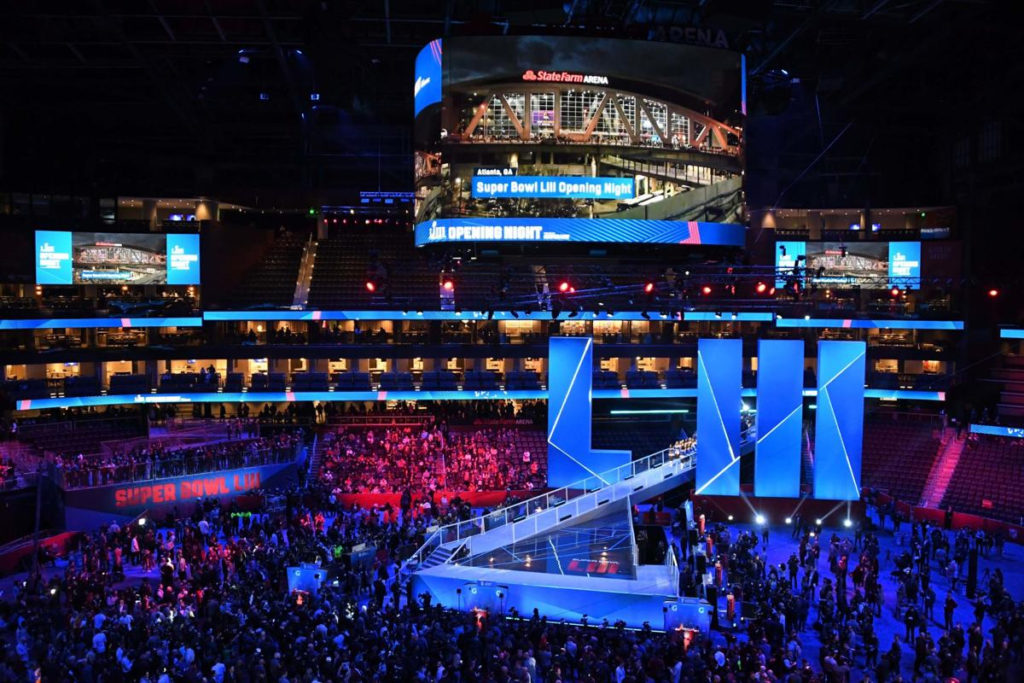 Atlanta, Georgia (February 2019) – Communication during sporting extravaganzas like Super Bowl LIII is always difficult, taking places in congested cities that are typically "RF challenged". This year's Super Bowl in Atlanta was no exception. Fortunately, Radio Active Designs (RAD) UV-1G wireless intercom systems were in use during numerous events leading up to, during and after the game to ensure all lines of communication were kept open.
CP Communications, located in Wappingers Falls, New York, was responsible for wireless audio transmission for pre- and post-game events handled by the NFL Network, CBS Sports and ESPN. The company provided nine UV-1G base stations along with 40 RAD bodypacks to ensure production went off without a hitch.
"Our clients covered everything all week long – starting with opening night and ending with post game ceremonies and shows," explains Michael Mason, president CP Communications. "When we were in planning mode it was clear that the most available spectrum would be VHF, which is where the RAD units primarily operate. The RAD wireless intercom was the right tool for the right job, hands down."
Radio Active Designs' UV-1G wireless intercom system features body packs that operate in the VHF band, freeing up valuable space for wireless systems that require limited UHF bandwidth. The unit features Enhanced Narrow Band technology, which is 10 times more spectrally efficient than current FM technology. As a result, the UV-1G offers RF channels possessing an occupied bandwidth of a mere 25 kHz the audio characteristics one would expect from a traditional FM system. The system offers seamless roaming for 600 meters with body packs that provide loud and clear audio even at the extreme end of the range, an exceptional solution for large events like the Super Bowl.
"Another advantage to the RAD gear is that you can more easily move it around with proper coordination as the spectrum is more available," Mason adds. "We had drop down units that were moved to different locations throughout the week leading up to the game and we had no problems with other RF in the area."
Recent upgrades to the system were another bonus for the CP Communications team. Scene Change feature allows each pack to have up to 40 talk paths and communicate with 20 wired comm channels. Base Linking affords matrix like functionality with up to 18 inputs/24 outputs and comprehensive audio routing to/from packs. Users can easily change belt pack parameters including radio frequencies, button assignment, talk paths, and audio channel via software with intuitive UI. All these features were put to use during game day in Atlanta.
"Given the scope of an event like the Super Bowl, it is understandable that there are limitations to what technology can be used," concludes Mason. "It is nice to have wireless solutions like the RAD intercoms that you know are reliable and will get the job done."
###
Photo Cutline: CP Communications put RAD UV-1G wireless intercoms to good use during Super Bowl Opening Night at State Farm Arena in Atlanta.
Download high-res: http://bit.ly/2T3ezah
Media Contact:
JMC Communications
269.262.4842
juliemcleanclark@gmail.com
Radio Active Designs – 21 East Union Av – East Rutherford, NJ 07073
phone: 402.477.0695
www.RadioActiveRF.com