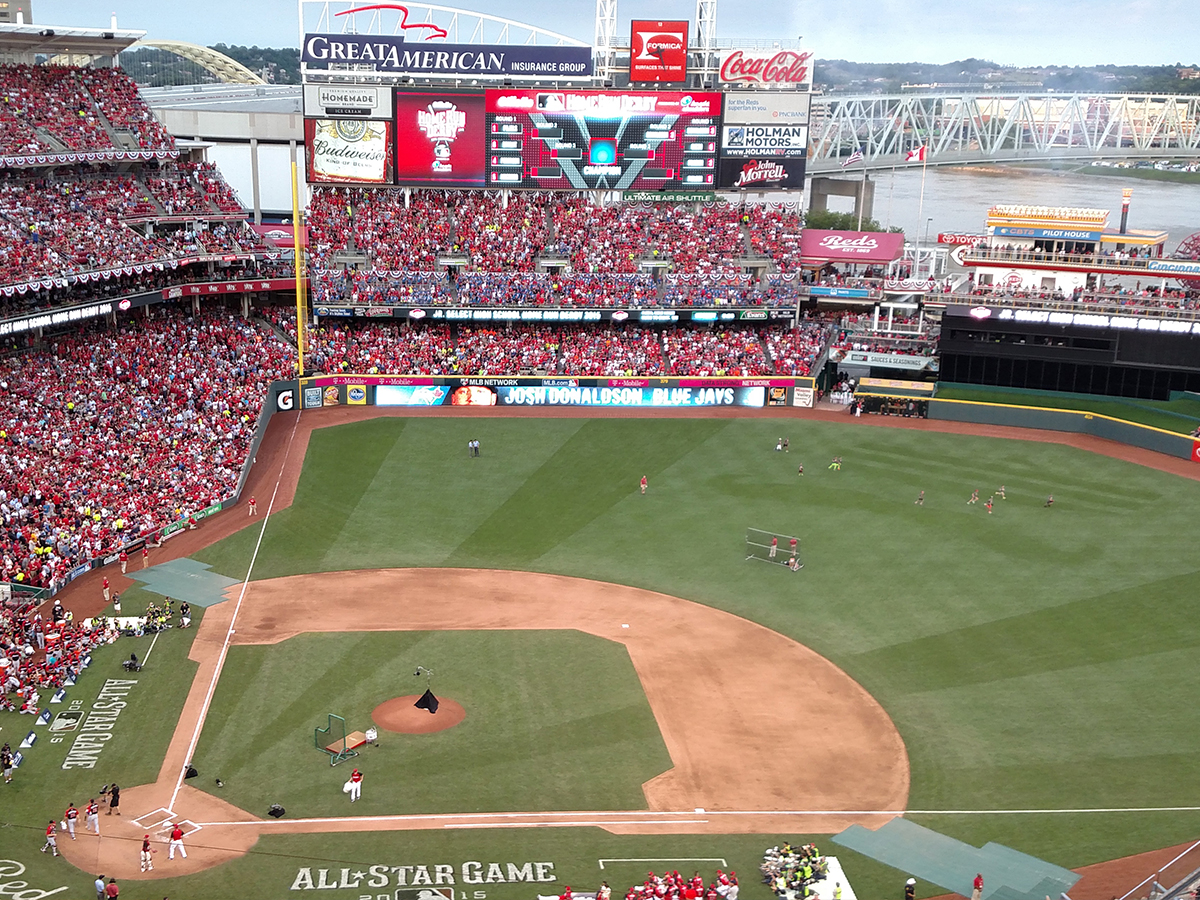 The 2015 Major League Baseball All-Star game or "Midsummer Classic" was recently played at Great American Ballpark in Cincinnati, Ohio. The league utilized a Radio Active Designs UV-1G wireless intercom system to assist with communications during the event. The sports division of Durrell, headquartered in Nashville, Tennessee, provided the MLB with the UV-1G system.
The Cincinnati Reds had an older, more generic intercom system at the park that required more bandwidth than the Radio Active Designs system. Thanks to Radio Active Designs' Enhanced Narrow Band technology, each channel of the UV-1G has an occupied bandwidth of only 25 kHz, which is substantially less than a typical system. Because there were more than 60 wireless systems in use, it was important to keep RF use to a minimum.
"The UV-1G gave us three times more space, which helped eliminate any concerns we had about wireless," explains John Horell, owner of Durrell. "It was a perfect fit for this situation. It worked so well the ballpark is considering adding a system to their inventory."
The UV-1G also utilizes the relatively unused VHF range for all belt pack portable devices, which frees up even more RF for operation of other wireless devices. Four RAD packs were in use by Major League Baseball throughout the game.
"We were following the development of the UV-1G for quite some time," adds Horrell. "The principals of the business have been working with wireless technology for years. They are intimately involved in the design of the system and in providing technical support and training. We knew we were in good hands."
CP Communications, headquartered in Elmsford, New York, was also on site with three UV-1G base stations and RAD Packs that were utilized by ESPN during the home run derby.
####
Photo Cutline: Radio Active Designs UV-1G wireless intercom systems assisted with communications at the recent MLB All-Star Game in Cincinnati.
Media Contact
Julie McLean Clark
JMC Communications
O: 269 262 4842
M: 269 240 3175
juliemcleanclark@gmail.com