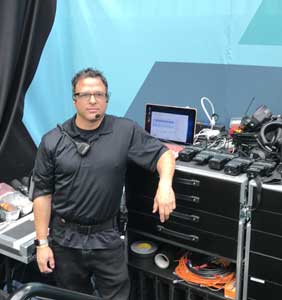 Richard Stockton
Sales Engineer
Richard is responsible for providing demonstrations and technical support for the UV-1G wireless intercom system, RAD's flagship product. Prior to joining Radio Active Designs, Stockton worked as an independent RF technician, coordinator and specialist as well as providing technical support and training to audio professionals. Richard has been an RF technician for events such and NCAA Final Four, COPA, Supercross, Super Bowl 49 and Monster Jam. He also currently works as an RF Technician/ Designer and Coordinator for the Arizona Cardinals Football Club. Throughout his career Richard has been an A1 and mixed corporate events and well as live music performances.
While living in Chicago for ten years, Richard worked at Shure Incorporated as an Artist Relations Specialist who help organize and consult with engineers about putting together RF rigs for World Tours. Richard also enjoyed being a sound mixer for many Chicago Independent Films while getting a BA in Sound at Columbia College Chicago.
Finally, Richard has played guitar, piano and drums since he was a young boy and still today enjoys writing and playing music today.